Zambia's political step forward and the case of African regimes and social media/the internet
And the many African countries that have done the same or worse….
On Tuesday Zambia's inauguration for it's new president Haikande Hichilema was received as a highlight for African politics, gaining the attention and support of many Zimbabweans including both it's major political parties. But while Hichilema seems to signify a new era for Zambia, a frightening , but now expected practice in African politics happened on Zambia's election day : WhatsApp and other social media apps were blocked. And while Hichilema's rule definitely seems to signify an era where these practices won't continue, it brings back the question of whether African governments can ever truly acknowledge the presence and power of social media without feeling the need to control it.
Now the block in Zambia was essentially a situation that Zimbabweans seem a little familiar with: restricting information in a time where the political atmosphere is tense. Hichilema and his party the United Party for National Development (UPND) had been opposing Zambia's ruling political party the Patriotic Front (PF) for five previous elections, and it was likely the PF was trying to use every strategy in the book to keep them from winning. Of course as almost everything political tends to be, the ramifications go on to affect a whole country, and social media being blocked or the internet being shut down in one way or another has become too common an occurrence in many countries. In fact, it's seemingly become a go-to strategy when there are situations of political strife or civil unrest. All over Africa the internet has gone from being a helpful tool that even governments can use to their advantage in campaigns to gain people's favor, to the first thing taken away when any government feels the need to control or worse yet oppress its populace and doesn't want any word of the incidents getting out. It keeps becoming more and more commonplace as well, with NetBlocks showing the behavior occurring in 10 countries in Africa within this year. These include Congo, Uganda, Tanzania, Guinea, Burundi, Togo, Mauritania, Benin, Cameroon, Mali. Congo and Uganda can be singled out for the internet being shut down for the exact reasons as Zambia as well, showing how it's essentially become a trend for African ruling parties to resort to the practice as well. In a lot of these cases as well, there wasn't a huge shake-up like the Hichilema's win, meaning people in these countries are essentially living under the fear of knowing such an incident could happen again.
Chances are some of you might be wondering what's wrong with these practices. And well that answer is still as clear as it was before these behaviors became commonplace: the internet and social media are tools, utilities that have literally been used in near limitless ways for communication, learning and business in ways that have uplifted many Africans. Taking the internet away is comparable to turning off the electricity or cutting off the water supply in an area, even if not directly as damaging for some, and is a crime against people on many counts. What's worse is that this continues to happen because the internet continues to prove its unlimited ability to oppose, report or even thwart oppressive government practices, with social media doing the same. This makes it seemingly one of those things African countries talk about or act happy about when not opposed, yet take it away whenever they feel threatened. As if it's a child's favorite toy being taken away by a parent, yet it's increasingly a source of commerce, employment and economic stability for many individuals and businesses in those countries. The most stark marker of this is Nigeria where to date, Twitter is still banned by the country's government, for deleting a tweet by Nigerian President Muhammadu Buhari which according to the social media platform, promoted violence and hinted at violent action being taken against many Nigerians , especially those in the south eastern region of the country. Now whichever way you take Buhari's words (shown below), you can't dispute the effect it's had on the country and it's people. Analytical tools suggest over $360 million lost in the two months that the ban's been effective. This isn't surprising considering that as one of Africa's most thriving economies, social media in Nigeria is even more powerful and effective, not to mention pivotal form many people's businesses. And considering the country's history with campaigns like #EndSARS, and multiple announcements of it's government contemplating regulation of social media , this move feels like it was one always bound to happen in some form or another.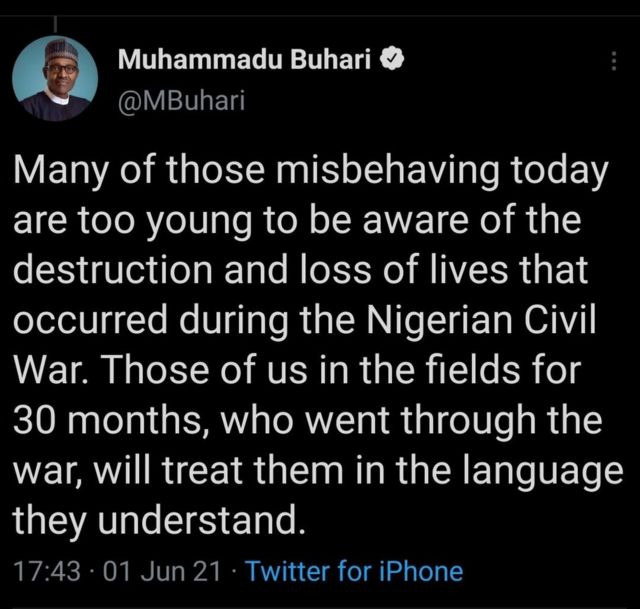 One could wonder however, that if Nigeria, where Twitter's influence could be considered pivotal, more so than other social media platforms, could go on to ban the platform, could the same happen in other countries? Especially in the same indefinite ban manner that Nigeria implemented. That seems uncertain, but probably likely in another country or two, though maybe not for as long. It seems clear that free speech is a problem still for many African governments or ruling parties, which makes the illusion of African freedom and progress come into question again. After all both come into question if they are not meant to be showcased publicly, or in any way that directly criticizes a government. Such critique should of course be a chance for governments to at least try to listen to people, and perhaps even pick up issues that they should attend to as (by their job description)leaders and servants of the people. However that isn't how a lot of cases with African governments are working. And instead the looming idea of regulation seems to be hinted at in more countries as well. This would probably leave African countries in a state similar to China at best, where social platforms in the country are either state sponsored/owned, or completely banned . China can pull this off of course by being the world's second most powerful economy(if not arguably first if you ask some people) and having the population and money for WeChat to become a direct replacement for WhatsApp. Not exactly the position many African countries are in, but with how close many governments have become to China, an eyebrow can be raised as how it would turn out if China offered facilities like WeChat to our governments, and if they would be in a position to know what actually matters when considering such an arrangement. What could be gained, and more importantly, what would be given away.
What this all seems to spell is that African countries are going to need to spell out their own version of a digital future and hopefully can do it in a way that recognizes the true benefits of the internet and social media as well as how it's meant to shape and benefit future generations. It's a tall task, especially considering in most cases these platforms aren't created or controlled in African countries. However with the right people in the right places, it is possible, and yes that sounds like an idealistic pipe dream for many, but it is possible, especially in a move for our countries to actually take advantage of the benefits of the internet, social media and digital platforms in a way that benefits people the most. The biggest question is if it can happen fast enough, and if the governments of many African countries can get to a point where the internet benefits them too in a way that makes them not completely use it to hold people ransom when they feel challenged. Seems unlikely? Well, one can hope right?
Related Stories:
They were more of peer pressure than anything...
Read More
Well...this is a tricky predicament...
Read More
Who knew an Operating System could be so controversial....
Read More
Tagged:
Haikande Hichilema
internet shutdown
regulations
social media shutdown
whatsapp
whatsapp ban
Zambia elections 2021