Say Hello to Windows 11: it has a new look, improved multi-tasking, more gaming features and the ability to run Android apps!
Microsoft's Windows 11 Event last night had one major function: tell everyone why this version of Windows is actually worth a name change (and worth your time). And well, while the deepest part of me still thinks this is a major Windows 10 Update as compared to a brand-new OS, color me intrigued. And you can watch the video above to see why.
Now if the video above didn't make it obvious, Microsoft focused on four key points when presenting Windows 11; productivity, ease of use/fluidity in multiple device forms, gaming, and apps/the Microsoft Store. It's easy to get why they did this, considering the first three are essentially Windows' strongest pillars in one form or another, while the fourth is an area Windows needs to focus and evolve on going into the future. Hence the biggest announcements of the event evolve around that and they're as follows:
New Design and Start Menu.
I've already put my general thoughts on the new, centered Start Menu in my slightly "ranty" previous article but my basic thoughts come down to this: if you can get over the fact that it's definitely mobile-inspired, it's probably going to be acceptable if not even very useful to you. As part of the productivity focus of Windows 11 and Office documents from across your devices will show up in the recommendations section under your most recently used apps. It's actually something Microsoft probably took from their Android Launcher which implements a similar idea. As for the centering of the Start Menu, well it definitely brings Windows 8 touch-focused chills, but there's at least some other justifications I've already stated, especially when it comes to multi-screen setups, especially since in the end you could shift the bar to the left again if you wish to. As for the design, well, it looks like a big sheet of glass, something that doesn't seem coincidental considering the Chief of the Surface Division Panos Panay is also the Chief of Windows now. He likes glass, and the Surface range itself gets its name from the glass surface you interact with on the device's touch screens. Either way it does look beautiful, no matter what you feel it copies or draws attention from.
Snap groups and Multitasking enhancements
Snapping two Windows side by side has never been a novel thing I windows, finding it's origins as far back as Windows with a simple "Windows Key + left/right arrow key" combo, but snap groups do bring a more elegant form of this that seems tailored to supported sizes for certain windows as well. It also adds in the ability to resume snap groups when interrupted by something that has to take up the screen and even allows you to keep multiple groups for multiple workflows. In fact the best version of this comes into it's own when multiple displays come into play, with Windows 11 automatically moving, resizing and allocating open windows according to how many displays you're connected to and saving work that was on a secondary display in it's own snap group, allowing it to automatically go back to said display when you reconnect to it. It's multiple quality of life improvements that essentially enhance the already existing experience in windows and make workflows a lot easier. This even stretches to tablet mode now known as "touch input mode" which improves and increases the size of touchpoints for easier inputs but also provides better multitasking for tablet PCs as well.
The Microsoft Store
Let's face it, chances are the Microsoft Store is probably the least used piece of Windows software on your device. And despite Microsoft's best efforts, that's for obvious reasons. Outside of some streaming services and maybe a few touch-friendly apps, most of the best windows software is still NOT on windows. In fact it's likely everywhere else, and Microsoft is still trying to get developers to bite the hook that the Store dangles. However this time there might be a lot more incentive for that. Not only has Microsoft reduced subscriptions for the store but it's also changed the language and packaging criteria, along with allowing developers to use their own payments for in-app payments, the exact opposite of what iOS and Android do. Add in reduced rates for games in the Microsoft Xbox Store, and there's a huge reason to now maybe look into the store as a developer which should increase the number of apps there for consumers. A little something better than just the new look it has. Then there's this next thing………
Windows 11 Runs Android Apps natively.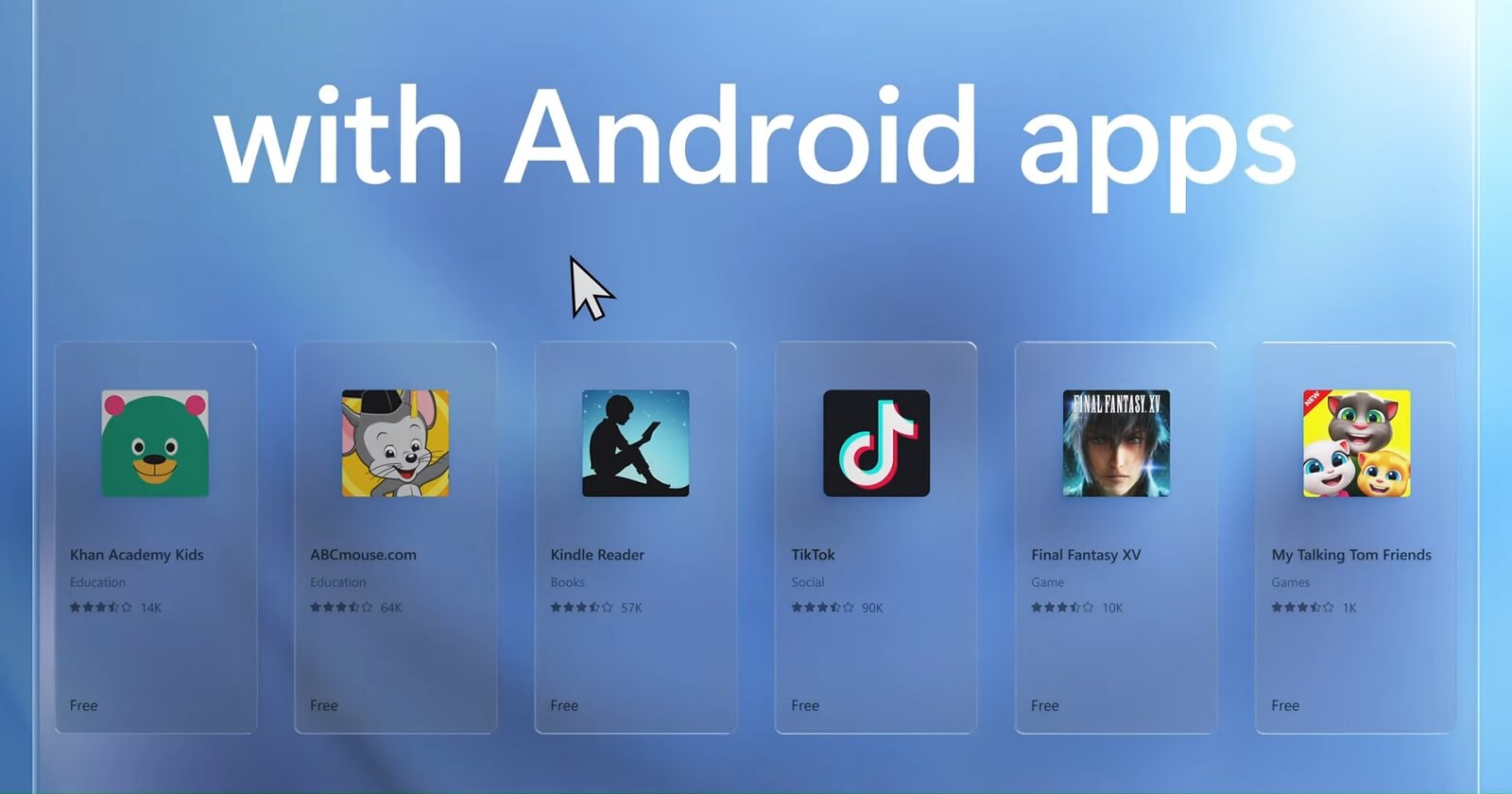 Through The Amazon App store and some new Intel Bridge Technology , Windows 11 will be able to install and run Android Apps apparently just like your phone does. There's of course more information and layers to be unpacked as Windows 11 continues to roll out, but basically if Windows 11 becomes a platform where you won't need Bluestacks to run Android Apps, then it will further enforce Microsoft's stance on being the platform that welcomes all.
It's Free!
If you have Windows 10 that is. Windows 11 will be coming as a free upgrade for Windows 10 users (which makes sense considering it's a heavy Windows 10 upgrade).

And that's a quick Run-down on Windows 11. There's a lot more to say and look at of course, and we're sure there's one question on everyone's mind now: should I upgrade? Well, probably. Even the beta versions that leaked are already pretty stable as a daily driver OS, but even still, at least in its initial form, this is just a huge overhaul of Windows 10 hence should make for an easier switch for any interested party. Of course taking some time to let the initial builds be tested out for bugs first isn't a bad idea either. Either way, of course we'll have a review ready for you when the full Windows 10 release is out. Till then, keep an eye out for our next Pesrspectivecast episode for more Windows 11 thoughts.
Related Stories:
Sigh Microsoft....the things you make us unpack...
Read More
Let me get a few things off my chest..
Read More
Who knew an Operating System could be so controversial....
Read More
Tagged:
Android
MacOS
Microsoft
Microsoft Surface
Operating systems
upgrading operating systems
Windows
windows 10
Windows 11