A brief look at a not-so-great situation…
The continued epidemic of the COVID-19 Coronavirus has been affecting every aspect of the world for the past two months of 2020, but in the past week alone it seems as though the negative news about the virus has ramped up, with countries like the USA reporting the virus was spreading for six weeks, South Africa  reporting it's first case ,negative financial and productivity predictions in almost all multinational industries and a slew of large tech conventions and developer conferences (something that is key to the tech industry as a whole) have been cancelled owing to precautions meant to stop the spread of the virus. And with that last part, along with some other reports we've gathered this week, it's perhaps time to see how the coronavirus has affected the tech industry in such a short time.

Cancelled conventions, trade shows and developer conferences
Now the tech industry has an ecosystem of consumers that buy the products, tech companies that manufacture the devices and operating systems and third-party developers that create the app or service ecosystem. Simply put, every good consumer tech device has some version of an apps or services it runs that are made by everyone from independent small-time developers to big software firms. Hence, tech conventions, developer conferences and trade shows are a huge part of how the tech industry runs, and having them cancelled (as has been done to many shows these past few weeks) puts a huge hurt on the industry as a whole. The current list of cancelled, postponed or deferred tech events includes the aforementioned Mobile World Congress, Facebook's F8 Developer Conference, Multiple Microsoft Ignite events around the world and Google's I/O developer conference. Other shows such as Game Developers Conference have had most big attending companies pull out, while many have just decided to postpone events entirely in hopes that the virus can get to a more contained and controlled state. And while yes most of these companies are already working to have some version of an alternative event in the works or just a virtual one streamed online, in person events are held for a reason , as there's things you can't just tell or see from watching something online (we should know, try reviewing a flagship smartphone you've never touched before).
An easy example of this would be Mobile World Congress. While the show has lost a little of its luster because Samsung and Apple have pulled out of presenting new phones there, it's become a hub for smaller smartphone companies to show off amazing, more daring pieces of tech. Chinese companies in particular have made it their playground, with companies like Oppo, Vivo and Xiaomi showing off their more creative phone ideas such as pop up cameras, disappearing front cameras and periscope lenses at MWC long before they went on to release devices with them. The conference itself serves as a hype machine for their upcoming products or new technologies. It also helps more established companies aiming to gain relevance again, with Sony being the first one to come to mind. Their Xperia 1 mark II is seemingly a very impressive machine, but as much as Sony's stock photos of it's much advertised camera system seem to be breathtaking, we can't tell how good the "pro-level" camera is until we get our hands on it, or anyone else does, which hasn't happened at all because Sony didn't have a testing booth for the media or developers like they usually do at MWC proper. Google I/O is the biggest stinger of all of these however, as it's become the biggest event the company holds every year, even bigger than their pixel events, as it often showcases new products for consumers as well as new API's for developers to take advantage of. Last year's event served as the launching ground for the Pixel 3A, one of our best phones of the year, and a Pixel 4A was expected at this year's I/O, but will likely be streamed online as well. Even Microsoft's Build conference, which is expected to be cancelled as well, might have ended up as an early launch for the Surface Duo foldable device, but that might not happen as Microsoft themselves might obviously want a bigger crowd and audience for such a launch. All these inconveniences lead to a disconnect within the tech community, one that in turn affects the market and day to day consumer engagement as well. In fact, speaking of the market…..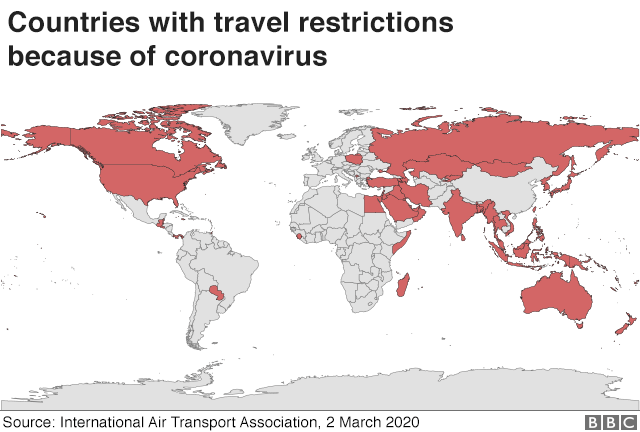 Financial ramifications
While we won't get into the details of it all of the detrimental financial effects of the coronavirus, it's not exactly news that financial analysts, large companies and even national economies are going to be negatively affected by the virus the more it spreads and remains a danger. There have already been multiple reports on international airlines and travel companies hit by billion-dollar losses because of COVID-19, but this is just the start, as manufacturing, enterprise, and even sports and agriculture industries have either already taken a hit or are soon to. When it comes to tech companies and products Microsoft, Samsung and Apple have already come forward stating expected sales drops and supply issues in this quarter because of COVID-19, and might continue to have supply issues as long as the virus hasn't been contained. The expected decrease in supply might of course impact new products stated to be released this year. The Galaxy S20 has already been an example of this as Samsung has already stated there may be demand and sales issues because of the coronavirus and other expected products might actually either be delayed or even be released at higher prices than originally intended because of the more constrained manufacturing conditions. The Microsoft Surface Duo was actually expected to release a little earlier than initially advertised but might not only run into delays hopefully back to it's original late 2020 release date, but also go up in price if manufactured under more difficult conditions. This effect is of course expected to ripple across devices and hence every new device of this year might end up more expensive than it ought to be, at a time where China and even America's economies are expected to be negatively affected by the virus.  To call it scary would be an understatement. We just essentially know that the coronavirus has the whole world holding its breath now, and that's never going to be a comfortable situation for anyone.
Hopefully of course all this changes, and modern medicine can pull out a win for all of us. But as we stated before, the effects of the coronavirus are being felt all around the globe somehow, and that has only continued as the year has progressed, and will continue unless the threat is purged.
Related Stories:
Tagged:
Apple
Business
conventions
coronavirus
google
google I/O
Health
international news
lifestyle
Microsoft
Mobile world congress
tech
Zimbabwe