We tend to give Apple a lot of flack here at TZP but their World Wide Developer's Conference (WWDC) two weeks ago brought up a lot of new hardware and software products that we honestly can't help but love. Another feature we're already praising is one useful for any female Apple user: Cycle Tracking.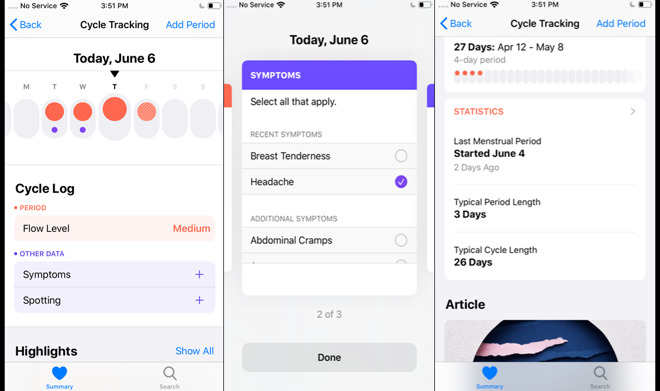 Now menstrual cycle tracking apps have existed for quite a while now, with examples like Floe, Clue and Eve. And while Apple may have been a little late to the party, but they have finally caught up with everybody. The new watchOS 6 will  have a built-in cycle tracking feature while the cycle tracking app will also come preinstalled on iOS 13.
In her presentation at the Worldwide Developers Conference, Apple's Vice President of Health Dr Sumbul Desai unveiled the new menstrual cycle tracking feature of watchOS 6 which will be released later this year. Dr Sumbul stated that all data – whether it was stored locally or on iCloud – would be encrypted to protect user privacy.
A major plus for this feature is it comes pre-installed, which makes its accessibility that much easier.
If you've ever used a period tracking app, you'll know they can be a little inaccurate – the watchOS 6 feature will probably be no different. Now this isn't a dig on it, it's just that there are so many factors to consider before making a prediction about one's next period or fertile window. Generally, the more info you feed into the app, the higher the chances are for an accurate prediction. Of course, you have total control over what you tell the app.
Users will be notified of their next period dates, and can choose to also get notified when their next fertile window is coming up. The fertile window notifications are optional, so don't stress about these very personal notifications popping up at highly inappropriate times. 
As I mentioned earlier, Apple was a little late with bringing period tracking to watch: Fitbit released its female health tracking feature in May 2018 while Garmin released theirs around April 2019. However, period tracking has been available to Apple users in the Health app since 2015.
For the average Zimbabwean woman, such a feature may seem unimportant and perhaps another way to waste one's data. However, it's important to learn as much as possible about your body and your cycle as it enhances your healthcare experience (doctors often ask about your cycle when you visit them about almost any sickness). It also helps you to avoid those sneaky, unexpected leaks that one is sure to fall victim to if unprepared.
In addition to the period tracking feature, Apple is also introducing a noise feature that tells you when you're being exposed to unhealthy amounts of noise. When the decibel meter reaches 90 (which is considered an unhealthy amount of noise) the app will warn you of the danger. The microphone on watch will be periodically on to capture the noise for this feature. Once again, Apple says user privacy is a priority so the watch won't record conversations or anything like that. Hopefully, that claim will be confirmed soon by independent researchers and investigators. WatchOS 6 will also have activity trends that compare the last 90 days of activity with the whole 365 days. If you've been slacking, watch may offer some coaching to get you back on track.
All I can say is Apple really is working hard to position their watch as the go-to device for maintaining a healthy lifestyle , but it's even better how Cycle Tracking will also come on iPhones as well, as it would suck for apple to show you such an amazing and useful feature only to lock it behind another device you have to pay for. In fact, this used to be Apple's way of working in the past, certain capabilities only came on the iPhone even if they also made sense on a Mac, but it seems the company has started to change this as of late and we're all glad here at TZP that they are.. Do you like this new development by Apple? Let us know your thoughts in the comment section below.
Tagged:
Apple
Apple Watch
Health
iOS
lifestyle
Wearables